Tour (6)
Touareg Space 15 Days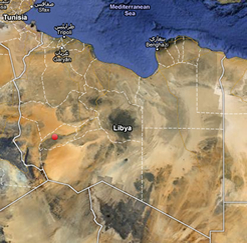 For the same itinerary we have the Meharee or the tours with camels. This travel allows you to discover the landscape diversity in the TASSILI N'AJJER and visit a few sites with rock engravings and paintings in Messak Sattefat.
Day -1
Arrival at TRIPOLI & then flight to Sebha we will be transferred by minibus to GERMA, spending the night at a hotel.
Day -2
Early, in the morning transfer to SERDELES by minibus where the 4 WD cars are waiting us. We will cross the AKAKOUS and the TITERSIN ERG through a narrow area and then arrive at AGHROUM N'OOUDADAN (village of mouflons) where we will meet our Touaregs group with their camels. We will have the opportunity to visit this attractive TASSILI during the whole afternoon time,as well as caves with engravings.
Day -3 to day9 (7 days)
days on camel or trekking with camels. During this period we will be accompanied by the Touaregs who will share with us their life customs. We will admire the fascinating WARAGAYA'S TASSILI, then we will go to an other TASSILI. It is MARIDET where we will admire rocks immersed in the sand, passing by ANOU AMASSER (AMASSER Sources) then we will come back through the TITERSIN ERG, the real sand ocean.
Day -9 to day 13
Early, in the morning, we will go by 4WD through the AKAKOUS, passing first by TADRART then we will continue our tour towards WANKASA ERG. Behind the Erg is the MESSAK SETTAFT plates, well known for its engravings. On our way back, we will stop to admire MANDARA lakes, in the middle of the dunes. Return back to Sebha for the flight to Tripoli and night at hotel .
Day -14
Visit of the antique sites Sabratha or Leptis Magna at your choice .Back to Tripoli for night at hotel.
Day -15
Visit of Tripoli's old city, the market then transportation to airport Tripoli for Departure.