Tour (5)
Tripoli - Sabratah – Sabha - Wadi Mathendush - Leptis Magna - Lakes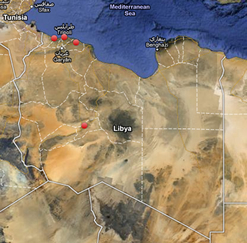 Day -1
Meet guide on arrival at Tripoli airport and transfer to Hotel overlooking the Mediterranean.
Day -2
visit Sabratah then the return to Tripoli airport By domestic flight fly to Sebha overnight in the sabha hotel or comp,
Day -3
Drive toward Wadi Mathandush (per-historic rock engravings), o/n camping in Murzuq dunes.
Day -4
Drive toward the lakes with short stop at Germa sightseeing old Germa and its museum, then continue to the lakes, o/n camping in dunes near the lakes.
Day -5
Morning around the lakes, Afternoon transfer to Sebha airport flight to Tripoli, arrive for overnight at hotel.
Day -6
Visit to the magnificent Roman city of Leptis Magna. Continue to Tripoli for overnight at Hotel
Day -7
Transportation to Tripoli airport for departure .