Tour (1)
Tripoli - Janzour - Sabratah - Qasr al-Haj - Nalut - Ghadames - Gharyan - Leptis Magna - Tripoli - Benghazi - Tocra - Ptolemais - Cyrene - Apollonia - Ras al-Hilal - Al-Atrun - Slontah - Qasr Libya - Benghazi - Tripoli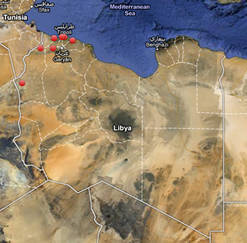 Day -1
Meet guide on arrival at Tripoli Airport and transportation to city centre hotel for two nights.
Day -2
Sightseeing tour of Libya's capital city including the National Museum and the mosques and souks of the old city.
Day -3
visit to Janzour catacomb museum and the Roman city of Sabratah with its stunning Colonnaded Theatre.
Day -4
Drive into the Berber heartland of the Jabal Nafusa to visit the beautiful qasrs of Qasr al-Haj and Nalut. Continue to the World Heritage Site of Ghadames.
Day -5
Sightseeing in the enchanting oasis of Ghadames. Take lunch in a traditional house. Late afternoon visit to Ras al-Ghoul, the remains of an ancient Roman fort, and the sand dunes of the Grand Erg Oriental.
Day -6
Drive to Kabaw to visit another beautiful qasr. to Gharyan to visit a troglodyte house and the pottery stalls for which the town is famous.
Day -7
Full day visit to the magnificent Roman city of Leptis Magna. then the return to Tripoli .
Day -8
Morning flight to Benghazi. Visit the Greco-Roman cities of Tocra and Ptolemais, the latter with its Columned Palace and huge vaulted underground cisterns. Continue to the Cyrene area.
Day -9
Visit Full day of sightseeing in the visit and remarkable Greek city of Cyrene, including the Temple of Zeus and the Necropolis.
Day -10
Visit the ancient city-port of Apollonia. Also visit the Byzantine churches at Ras al-Hilal and Al-Atrun. Return to the Return to Benghazi via the eerie pre-Islamic grotto of Slontah and Qasr Libya with its splendid collection of Byzantine mosaics. Flight to Tripoli.
Day -11
At leisure until transportation to Tripoli airport for departure.